Best Facebook VPN
Can't connect to Facebook? But your internet connection is fine, and every other website is working?
Don't worry. No matter if you're at work or at school, having a VPN connection will help you access Facebook and Facebook Messenger in 3 easy steps.
Looking to Access Facebook with a VPN?
Whether you're on your laptop, phone, or tablet, follow these 3 easy steps. Hide your IP and access your Facebook account.
1. Download ZenMate's browser extension, desktop client, or mobile app by clicking here.

2. Follow the instructions to create your ZenMate account.

3. Choose your VPN server and then click the big round button to connect - your data is now encrypted, and you have changed your IP and virtual location!
Why can't I access Facebook?
There are many possible reasons for why you can't connect the Facebook website or app. And they all apply whether you're browsing from your computer, laptop, or mobile device.
Some authoritarian governments tend to ban social media sites, such as Facebook, Twitter, or Instagram in their countries. Another reason could be that your workplace or school blocks Facebook through their network.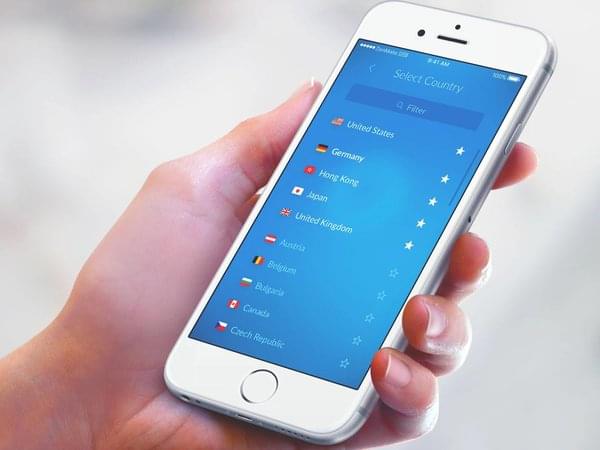 Whatever it might be, the only way to block websites is through your IP address. Schools, restaurants, businesses, or countries, anyone that stops you from accessing Facebook is using the same method.
When you connect to the internet, a unique string of numbers is assigned to your device to tell it apart from all the other internet users. That's an IP address. Think of it as a postal address for your device.
The bad part is, your IP address is a dead give-away to your location and some websites might use it to block your access, other times ISPs (internet service providers) set restrictions on what websites their users can visit.
So, if you're trying to reach Facebook, the world's most popular social network, the solution to your problem is simple: change your IP address.
Luckily, you can do this with a secure, fast, and reliable VPN service that bypasses restrictions.
How A Facebook VPN Works
With a VPN (virtual private network), you can easily change your IP address.
VPN service providers own servers in various countries. When you use a VPN for Facebook, you connect your phone or computer to a server location, and your device automatically gets assigned an IP from that area.
Basically, you change your IP address, and ISPs and websites think you're logging in to Facebook from a different location where they don't impose restrictions.
With ZenMate, you can easily choose the location you'd like to appear from and connect.
ZenMate VPN has over 81+ global locations and hundreds of servers for a complete and anonymous browsing experience.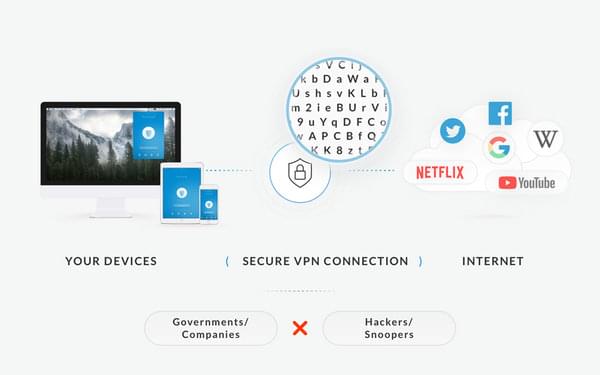 By using a VPN, you can easily change your IP address. VPN service providers own servers in various global locations and therefore are able to exchange your IP address with one of theirs. With ZenMate, just choose the location which you would like to appear from and connect. By changing your IP you can access Facebook and all the other content that you love. ZenMate VPN provides over 81 global locations and hundreds of servers.
Why should I use ZenMate VPN to access Facebook?
ZenMate makes accessing websites easy. It's one of the safest VPNs to access Facebook. In fact, ZenMate doesn't only hide your IP address, but it also encrypts your traffic.
Which means absolutely nobody, including governments, ISPs, hackers, and criminals, can see your online activity.
So, ZenMate VPN is a vital piece of software for anyone who doesn't want the government or advertisers to get their hands on their data.
VPNs are also useful for anyone who regularly uses public Wi-Fi networks, such as those in hotels and coffee shops. Because usually, those type of networks can be easily hacked.
And ZenMate ensures that you don't have your banking details or password information stolen while using poorly secured networks. ZenMate VPN is the perfect tool for people who wish to stay anonymous and browse privately. No matter if you're using an iPhone and iPad, Windows phone or Android phone, or your web browser.
Should I use a free proxy to access Facebook?
Many people use basic web proxies to access popular websites.
However, using a Facebook proxy site can be a massive risk to your online privacy and security, because of data collecting. They're often operated by cybercriminals who use them to get access to everything you do online. Including your emails, passwords, and credit card details.
A free proxy server can help you access sites but at the cost of gathering and selling user data.
Proxy servers and the entire infrastructure costs a lot of money, and if a proxy site is for free, then you should ask yourself how the people running the page are making a profit. If they aren't stealing your details, then there's a good chance that they are logging your data and selling it to advertisers. So, the website you visit will be so flooded with ads that the slow speeds will make it unusable.
Access Social Media Sites with ZenMate VPN
Instead of using a dodgy proxy, try out ZenMate VPN app. We also have a free VPN browser extension for you.
And we never log any of our users browsing data. So, nobody, including us, will know what you are doing online. We are committed to helping build a secure, private, and free internet.
You'll be able to easily access your favorite social media platform from anywhere in the world, bypass filters and even watch sports streaming and content on YouTube.
Plus, you're not risking anything because our 30 Days-Money Back Guarantee covers you. After you get ZenMate Ultimate, you have 30 full days to try it out. If for any reason at all you decide it's not for you, we'll refund your purchase. Just contact our customer support department.
Choose The Plan That's Right For You