Discover the Safest Public WiFi VPN
& Stay Private Online
Protect your sensitive information like banking details or important passwords by using a virtual private network. No matter if you're connecting to a poorly secured public Wi-Fi from a coffee shop or a bar, or if you're traveling and must connect to the airport or hotel's Wi-Fi network, rest assured knowing nobody can get their hands on your private information.
The dangers of public Wi-Fi networks
Public wireless networks are some of the most dangerous tools in tech. Many cyber-criminals and hackers use Wi-Fi to steal unsuspecting people's private data. Sometimes they might hack your accounts and lock you out of your email or Facebook profile. But what if they get their hands on your banking details? Hackers can empty out your entire account in a matter of seconds.
Usually for cyber-criminals to be able to hack your device through Wi-Fi they have to read your internet traffic directly. If you use ZenMate VPN, even if you connect to Wi-Fi hotspots, all your data becomes encrypted, so it's impossible for anyone to read or decipher it. This way hackers won't be able to steal anything from you.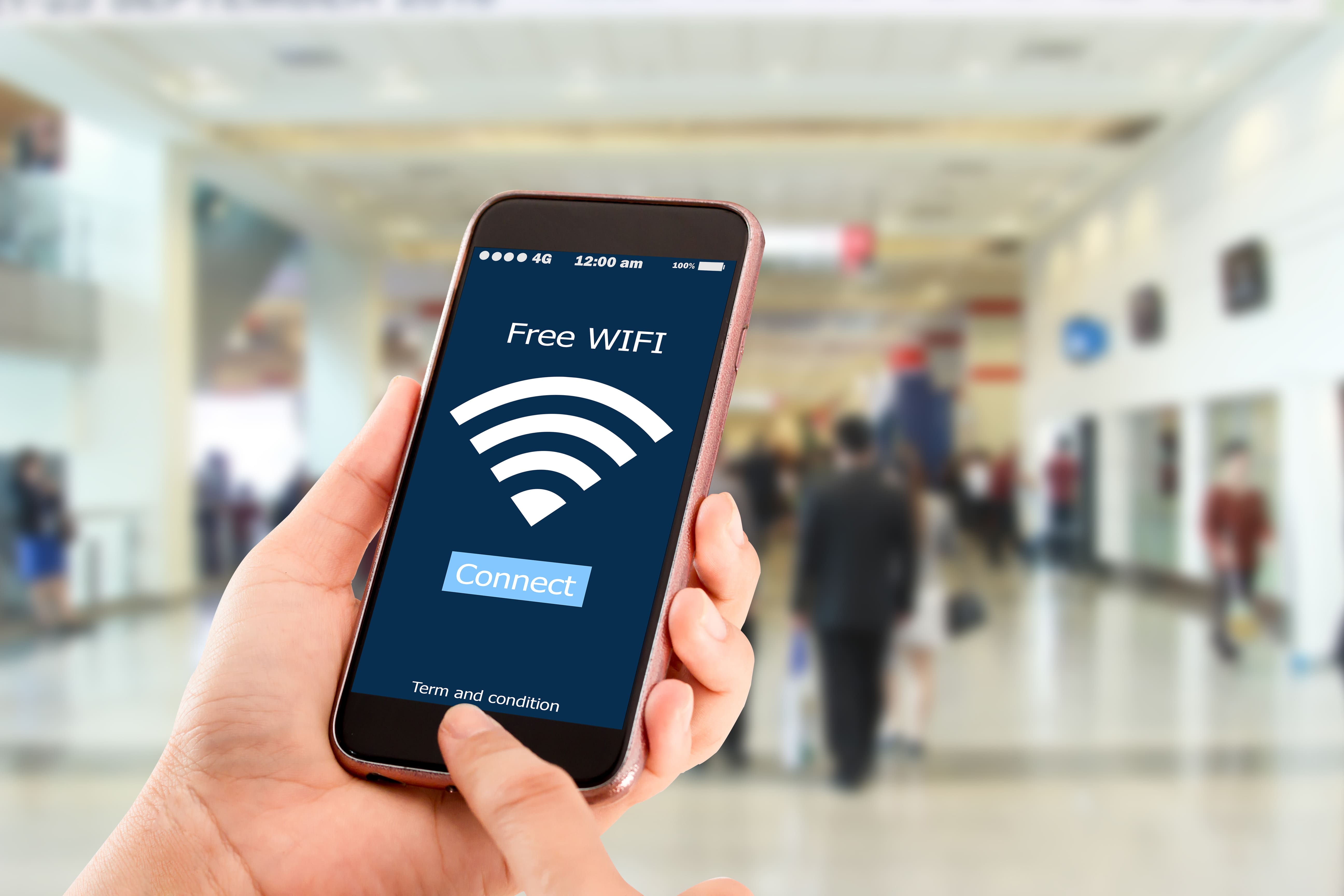 How to stay safe on public Wi-Fi connections
ZenMate VPN acts like a shield for your devices that are connected to public Wi-Fi networks. Think of your connection as a secure tunnel that your internet traffic goes through.
When you start up the app, ZenMate instantly encrypts your data, therefore protecting all your financial information, passwords and cookies. Our VPN app uses military-grade encryption technology. Which means your connection will be 100% impenetrable.
Not only that, but when you use our VPN service, you become completely anonymous online. When you connect to one of our VPN service's remote servers, your IP address is changed to a different one from that server's location. Which means nobody will be able to track what you do online. All your data becomes invisible to ISPs, governments, advertisers or nosy hackers.
How to protect your Wi-Fi home network
ZenMate is the perfect choice for a Wi-Fi VPN because with one subscription you can protect your entire private Wi-Fi network straight from your router using the OpenVPN protocol. This way all the devices you connect to your Wi-Fi will be 100% shielded against any kind of cyber-threat. And nobody will be able to track what you do online.
Depending on the OS you're using there are different tutorials for installing ZenMate VPN directly on your router. When you run ZenMate VPN on your entire home Wi-Fi you can rest assured knowing all your devices are secure and protected.
If you don't want to run the app on your entire network, just run the app on your device and you'll always be safe on public WiFis.
How to stay secure on your work and school WiFI
1. Download ZenMate's browser extension, desktop client or mobile app by clicking here

2. Follow the instructions to create your ZenMate account.

3. Choose your server and then click the big round button - your data is now encrypted, and you have changed your virtual location!
Why is ZenMate the best WiFi VPN?
ZenMate also offers a free VPN browser extension available for Google Chrome and Mozilla Firefox. This way, even if you connect your laptop to a poorly secured public Wi-Fi hotspot, you'll be able to keep all your data private and stay safe.
Wi-Fi protection for all your devices
With just 1 single ZenMate VPN subscription you can protect an unlimited number of devices. We have dedicated apps for Windows, macOS, Linux, Android, Android TV, iOS, OpenVPN and more. So, you can get peace of mind knowing all your devices are shielded against any kind of cyber-threat.
Military-grade encryption
ZenMate VPN uses AES- 256 encryption technology. Not even the world most skilled hackers are able to break this type of encryption. All your data will be completely secure, and your internet connection will be impenetrable.
Strict no-logging policy
At ZenMate VPN we have a strict zero-logs policy. Which means we don't keep any data of our users' internet activity. From the moment you start the app you become untraceable. Nobody, including the government, your ISP or advertisers will be able to tell what you do online.
One-click connect
All it takes to become bullet-proof against any cyber-attack or to be totally anonymous online is the click of a button. Run the ZenMate VPN app and click the big round button with the logo on it. You're now secure and your IP changed to one from our remote server's location.
Servers located in 81+ countries
With ZenMate you can browse at lightning fast speeds and connect to VPN servers from over 81 different countries. You'll be able to browse anonymously and stay protected no matter where you are in the world.
Kill switch
ZenMate also has a kill switch feature that acts as your fail-safe for staying protected and private. If your VPN connection drops unexpectedly, our app also kills your internet traffic. That way hackers won't be able to get their hands on your info.
Frequently Asked Questions
Over 47 million people use ZenMate everyday
Give it a try