Unblock Porn with a VPN
Pornography and adult websites are running the internet. That being said, there are several reasons why you might not be able to access them. This may be due to strict network settings, parental control filters, or even due to government censorship on online content in your current location. Many governments around the world block porn websites because they impose harsh regulation and mark pornography illegal. However, with a trustworthy VPN, you can easily unblock porn websites by hiding your IP address and re-routing your online traffic. Besides, with a reliable VPN, it doesn't matter where you are, it just takes one click to encrypt your data and change your IP address.
How to Unblock Porn?
1. Download ZenMate's browser extension, desktop client or mobile app by clicking here

2. Follow the instructions to create your ZenMate account.

3. Choose your server and then click the big round button - your data is now encrypted, and you have changed your virtual location!
The Issue with Watching Porn Unprotected
Streaming porn and on your computer or mobile device unsecured puts you at a high risk of exposing your personal information and bringing unwanted advertisements.
Once you enter a porn site, your IP address can be revealed to the 3rd person parties. In other words, details such as when you are accessing a porn site, your location and additional personal information can be exposed to both the owner of the adult website and its collaborators.
You also might not be able to access the desired website at all. And the only reliable tool for fixing this problem is a VPN.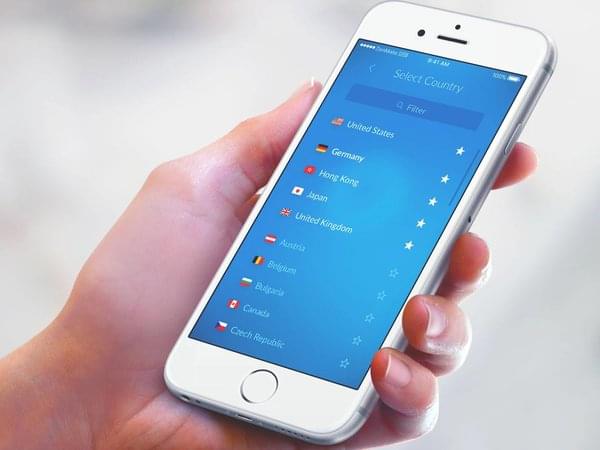 How to Unblock Porn Sites with a VPN?
A VPN, short for Virtual Private Network, is a tool that hides your IP address and switches it with a new one from a remote location of your choosing.
Furthermore, a VPN is great for quickly unblocking websites and any censored porn sites, regardless of where you are.
If you live in a country where you can't watch porn online, it's probably because adult content is strictly censored or blocked. China, South Korea, and most of the Arab and North African states are among the countries where porn is banned.
So, you might want to use a VPN to access adult websites such as Pornhub or Xvideos Xnxx.
ZenMate can make it simple for you. Just connect to one of our foreign VPN servers from a country that doesn't have harsh porn restrictions, and nobody will be able to track your online activity.
Websites Can Also Be Blocked on a Smaller, Local Scale
For example, most cafes and restaurants don't allow access to porn and adult material. Companies such as McDonalds and Starbucks have already denied users from accessing porn sites from within their premises. In fact, 49% of all Wi-Fi hotspots in the US block any pornography and other 'inappropriate' material. So, who knows when you might encounter a WiFi that blocks online porn?
With a VPN, however, you can easily unblock your favourite porn sites wherever you go.
Porn websites you can unlock with ZenMate VPN:
Most Famous Porn Sites:
PornHub

xHamster

Tube8

RedTube
Most Famous Mobile Porn Sites:
IPornTV

Phonerotica

RealityKings
Why do you need a VPN for Porn?
Traveling to countries where watching adult content is illegal can be inconvenient. Whenever you try to access a porn video in these countries, a blocked page will appear. However, with a VPN, you will be able to access any porn sites of your choice easily. Regardless of your destinations, a VPN helps you bypass any geo-restrictions, so you'll unblock videos and access your favorite porn sites from anywhere.
Countries with blocked access to porn sites:
Afghanistan, Algeria, Armenia, Australia, Bahamas, Bahrain, Bangladesh, Belarus, Belize, Bhutan, Botswana, Brunei, Bulgaria, China, Comoros, Djibouti, Egypt, Eritrea, Ethiopia, Gabon, Gambia, Ghana, Guyana, Iceland, India, Indonesia, Iran, Iraq, Ivory Coast, Japan, Jordan, Kenya, Kiribati, Kuwait, Laos, Lebanon, Libya, Lithuania, Malaysia, Maldives, Mali, Mongolia, Morocco, Nepal, North Korea, Oman, Pakistan, Papua New Guinea, Philippines, Qatar, Russia, Saudi Arabia, Senegal, Sierra Leone, Singapore, Solomon Islands, Somalia, South Africa, South Korea, South Sudan, Sri Lanka, Sudan, Syria, Tanzania, Thailand, Uganda, Ukraine, United Arab Emirates, Vietnam, Yemen, Zambia.
More benefits of using a VPN
Other than watching unblocked porn, there are plenty more benefits of using a VPN for any online activities. With ZenMate VPN, all your online traffic and history are encrypted, and therefore you can browse anonymously whenever you visit a porn site.
Our encryption is military grade level, and literally, no one can find out who you are or where and when you are accessing a porn site.
Even we can't access your personal information online because we have a strict no-logs policy.
The danger of using a Free Proxy for Unblocking Porn
Using a free web proxy is an easy but dangerous way to unblock censored porn. The reason is obvious: it is free.
A VPN infrastructure costs money, so if a VPN provider or a proxy service isn't charging their users, where do you think they're getting their money from?
Free proxies make money by storing and selling their user's personal information. Watching porn is fine but do so more securely and privately.
Circumventing the UK porn ban with a VPN
The UK government plans to set restrictions in place for accessing pornographic material online. Websites like Pornhub and XHamster have to verify users' identity with an AgeID. So, if you want to watch porn in the UK, you will have to submit a legal ID to verify you are not underage.
The most worrisome factor for most users is risking their online preferences, activity, and data, being collected by porn companies and the UK government. A breached database could be immensely shameful and humiliating to people. Imagine everyone knowing everything about your porn preferences.
Using a VPN service would shield you from having to verify your age. Just connect to a server outside of the UK, where mandatory identification is not a concern.
Why is ZenMate VPN the best solution for unblocking Porn?
Over 79 million people use ZenMate VPN because it offers hundreds of servers in 79+ countries, turbo speeds, and top-notch encryption. ZenMate allows you to experience fast connections and to watch your favourite porn at high speed and quality.
Wherever you are, you will gain full protection against any security breaches. Unlike a proxy, ZenMate never gives away your personal data to third parties. Instead, we ensure that every person experiences a secure, private, and free environment to watch porn and surf the internet.
Plus: ZenMate VPN Has a 30 Days-Money-Back Guarantee
We're so confident you'll love ZenMate VPN that we're willing to take all the risk here. After you get ZenMate Ultimate, you have 30 full days to try it out. If for any reason at all you decide it's not for you, we'll refund your purchase. Just contact our customer support department.
Frequently Asked Questions
If you can't access porntube.com there are 2 options for you. You can either Download the ZenMate VPN app on your laptop, computer iPhone, iPad or whatever else device you're using. Or you can get ZenMate's free VPN extension for the browser you're using. Then connect to a server from a different country and you'll instantly be able to access any porn site you want.
If you want to avoid the dangers of using a proxy website, such as having all your online activity exposed, your only option to unblock porn is a VPN. ZenMate VPN has a no-logs policy. Which means we don't keep any records of your internet activity. The same goes for our free browser extension. If you want to unblock porn using your browser try out the ZenMate extension. It's available on Google Chrome, Opera and Mozilla Firefox.
No matter if you have an Android or an iOS phone, a simple solution to unblock porn sites is to use the ZenMate VPN app. All you have to do after you download ZenMate is connect to a server from another country and you'll be able to access any website.
Choose The Plan That's Right For You